05 Oct

Meet Boniface L'Souza one of CIM's Finest

If you've taken the postgraduate and diploma CIM professional marketing classes then he is no stranger. If you have not you should, there are reasons behind our high student pass rate and he is one of them. As we come to the end of Customer Service Week 2018 it is only fit that you get to interact with a familiar face, Boniface L'Souza.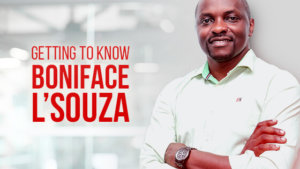 When did you decide to follow marketing as a professional career? Is it something you always wanted or chanced by it?
Hehe. I got into marketing by accident. I don't think the idea of being a marketer ever crossed my mind during my university days. My first employer was a CIM study centre. Though I was hired as an accountant and an ABE tutor, I found myself handling CIM enquiries, and this is how I developed an interest in wanting to know more about the product I was selling. The rest is history, as they say. Right now, if I were to go back to my undergraduate years, I would choose marketing without any hesitation. Marketing is practical, it's fun and challenging at the same time.
Then you came into lecturing. What was that like for the first time?
Before getting to teach CIM, I had lectured some accounting courses for about 2 years. So lecturing was a familiar territory, but tutoring CIM was extremely scary. The perception in the market then was that CIM was one of the most difficult things to do. The first unit I taught was Marketing Information and Research. I had 6 students; 4 passed, 2 didn't. I felt terrible. For a very long time, I thought I was to blame for the 2 fails. This performance challenged me to invest more time in supporting my students and delivering quality content in class. I'm glad that the second group I handled registered a 100% pass rate. From there, there has been no looking back.
How long have you been lecturing CIM Professional Marketing Courses?
I started lecturing CIM in 2012. This is my seventh year; it's been quite a journey.
Most people would say you are one of the best lecturers CIM has. What do you think?
Hehe, I do not think I am one of the best CIM tutors. As a matter of fact, I know a good number of CIM tutors who are extremely good at what they do. I like seeing my students do well, both in class and in their careers. I think this drives me to want to do more for them, so that together, we can grow.
Your classes always have a high pass rate. What do you attribute this to?
Hehe, thank you. God, definitely. I like challenging my students to do more, to think, and not to conform to the rule book. Besides making our classes more of interactive sessions, we use real life examples that we all can relate to. I encourage them to do sufficient research and internalize what they study. I am glad that this is always reflected in the quality of assessments that they submit for marking.
What aspect of marketing is your favorite and why?
I am a big fan of two main areas of marketing – strategic marketing planning and digital marketing. I like how through planning we are able to put together so many aspects within an organization towards getting a plan that becomes the firm's guiding star. Digital marketing is fun, sometimes technical and thrilling. There is always something new to look forward to.
If you are not nose deep in marketing material how else do you spend your time?
Hehe. Actually I am rarely nose deep in marketing material. I am also a professional accountant and HR professional. When not tutoring marketing, you will find me conducting trainings in accounting and HR, besides offering consultancy services to corporates around these three areas. It is extremely exciting. And when all is done and I need to rewind, I spend time with my family as I listen to lots of rhumba.
Finally, what do you predict will happen to the marketing landscape in the next five years?
A lot will happen. First, many marketers and non-marketers are getting professional qualifications in marketing. They are getting empowered on how to do world class marketing, and indeed when I listen to the ideas that the modern professional marketer has, I am convinced that we are on the right path. Second, many organizations are realizing the significance of marketing, and the role it has on their top and bottom lines and are making the required investments in marketing programs. Lastly, globalization has made it possible to share best global practices in marketing thus raising the bar even higher. These developments show that marketing is here to stay, and it is imperative that marketers equip themselves with some of the skills that will drive these transformations. It is no doubt that digital marketing, strategic planning and data analytical skills will propel marketers to the next levels of their careers.