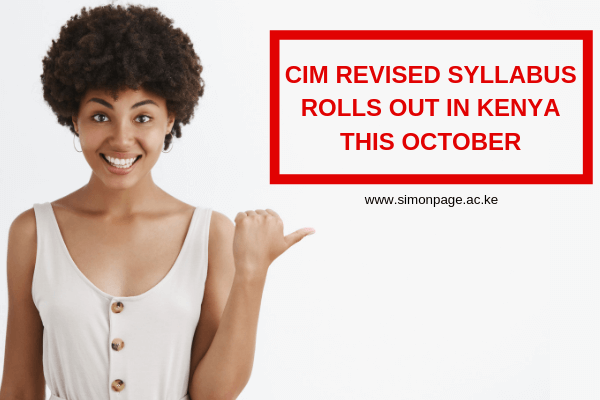 19 Jul

CIM New Syllabus Rolls out in Kenya

Did you know that CIM recently released a new syllabus?

Chartered institute of Marketing (CIM-UK), being the leading professional marketing body, strives to give the best learning experience across the globe. By connecting with its partners in different levels from tutors, students to the study centres, CIM is able to understand the needs of its students better.

For this reason, after their research on what its consumers really desire, CIM revised the existing syllabus and curated it to fit the changing nature of the marketing environment.
What is in the CIM's Revised Syllabus?
CIM emphasizes that the recently released syllabus is to be referred to as a "REVISED" and not "NEW" simply because the content has just been tweaked to match the key skills expected from marketers in today's workplace.
With very catchy names to attract the interest of every professional marketer, CIM revised syllabus is designed to enhance the practical skills of every marketing professional in this digital era.
At first glance, you will notice the change of names at every level of the CIM qualifications on the Prospectus apart from the Postgraduate Diploma level. For instance, at Certificate level; marketing module changed to Applied Marketing. CIM is now more focused on improving skills by simply dissecting every complex unit into an easily consumable and relatable content for the marketing professionals.
Every level of CIM's qualification has been integrated with digital marketing in order to help professional marketers to understand the digital platforms available to them and how to effectively use them.
When does the CIM's Revised Syllabus roll out at Simon Page, Kenya?
CIM-UK announced the launch of a revised syllabus in June 2019 but as Simon Page Kenya, we have scheduled an official roll out in October 2019. Since the first assessment for this CIM revised syllabus will be in April 2020, our continuing students will transition from the existing to revised syllabus by the end of October.
For new students registering for our October Intake, all assets on the revised syllabus will be available on our website and E-learning portal for your reference. For more details on how the new structure of the CIM's revised syllabus looks like, visit https://www.cim.co.uk/qualifications/.