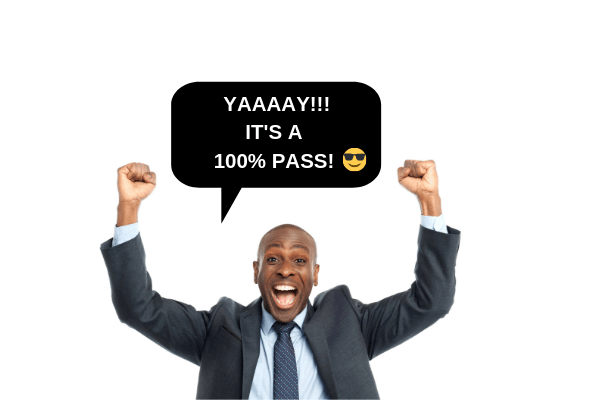 21 Jun

100% Pass Rate in CIM Exams! What's the Secret?

The CIM exams' results are out and our CIM students performed exceptionally well with a 100% pass rate!

The overall results for the April Exams reveal that; of all the students sitting for the CIM exam, 91% passed with many recording a 100% score on all modules. The CIM's Diploma in Professional Marketing level bagged 100% pass rate on all modules, from all the students that sat for that exam.

Other units that attained 100% passes are: Marketing Principles, Marketing and Corporate Digital Communications.

To achieve and maintain this remarkable reputation, high graduation rates, good value and other notable features, we've developed a culture that supports our students to attain this extraordinary results. You might be curious to find out how our students achieve such high pass rates, it's simple. All you have to do is:
Discover the type of student that you are
As individuals, we have different ways of grasping information. According to Youth Central, there 3 types of learners: Auditory, Visual and Tactile. The auditory learners prefer to learn by listening while the visual type prefer learning by seeing and Tactile by doing. Knowing the type of learner you are will help you focus your best study technique in order to get the best from class faster.
       2. Get all the assistance you need
Randall's article on Live Career advises students to understand their professor's way of teaching, his preferences and expectations. We encourage our students to develop a close relationship with all their tutors. The Simon Page faculty has progressively developed a culture that promotes excellent assignment support for all students regardless of mode of study that they choose. Hence, our students find ease in approaching them when stuck with their projects. Your tutor will not know that you're struggling with your course work unless you inform and allow them to guide you through.
3. Choose study options that work for you
With the kind of students that we have, most may not have time to attend our face to face classes and choose to study online due to their tight schedules. We understand this need and that is why we have a very resourceful up-to-date e-learning platform. However, this may not be suitable for everyone. It still narrows down to the type of learner that you are. If having a tutor present for guidance works for you, then always opt for the face to face mode. Learn to choose the easiest ways to study for better results.
   4. Choose the right study center 
Choosing the best study center for your Professional Marketing training is key to you getting the best results for your hard work and effort! You need to do your research well and settle on a center that allows learning to fit into your busy lifestyle. One that offers diverse study options and allows you to network and have the best support of a tutor. Do a pre-visit and gauge if the learning environment is to your liking because very study center will give you a different learning experiences. Simon Page could be your best choice. Visit us today at Barclays Plaza 16th Floor, Loita Street, Nairobi.