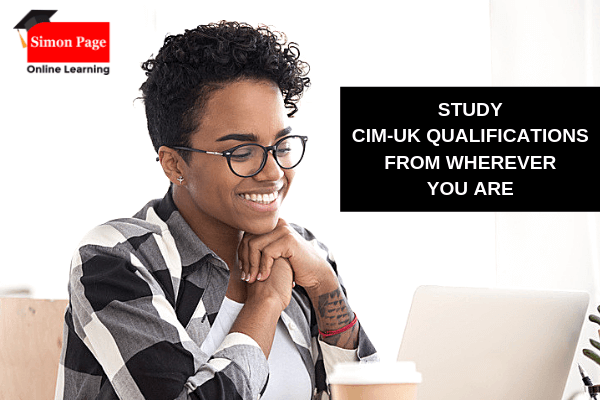 14 Jun

Learn CIM-UK Online from anywhere in Africa via our e-Learning Platform

Do you want to progress professionally but still struggling to juggle between work, family and classes?
Online learning or what many of you may refer to as distance learning allows you to study from wherever you are and fits into your tight schedule. You no longer have to worry about being stuck in crazy traffic on your way to class after a long day at the office. Online learning gives you the pleasure of studying from the comfort of your house or office.

Are you looking to join a study center that offers reliable Online Learning option?
Your search has come to an end because Simon Page could be your best option for all your professional qualifications needs.
Simon Page College of marketing e-learning portal provides you with up to date information on all Chartered Institute of Marketing (CIM) courses. All students subscribed to this have full access to all videos, lecture materials and the best CIM tutors in Africa. As for the syllabus coverage and assignment support, they are assured of on-time correspondence with Kenya's lead CIM tutors on email, phone and Webinars.
Online learning at Simon Page College of Marketing gives you the freedom to set your own study pace and acquire globally recognized certification from wherever you are.
Here is all you need to know about Simon Page's Online Learning:
Simon Page e-learning portal assures all prospective students of a quality learning experience, program flexibility and exceptional assignment support. You can study any module from any part of Africa by simply logging into our e-learning portal.
We are currently offering Chartered Institute of Marketing (CIM- UK) qualifications on this platform. CIM is the leading professional marketing body. CIM qualifications helps you broaden your strategic perspective, become a more effective marketer.
Studying CIM online helps you discover ways in which you can influence your customer's purchase decisions regardless of the region you are based. You will also learn how to identify sustainable competitive advantages and exploit them with the resources at your disposal through the CIM's Strategic Marketing module and more.
You can now enrol for CIM's Certificate, Diploma or Postgraduate Diploma in Professional Marketing at a click of a button. Visit https://bit.ly/2MPhCjX to learn more about this program and start your online learning journey.