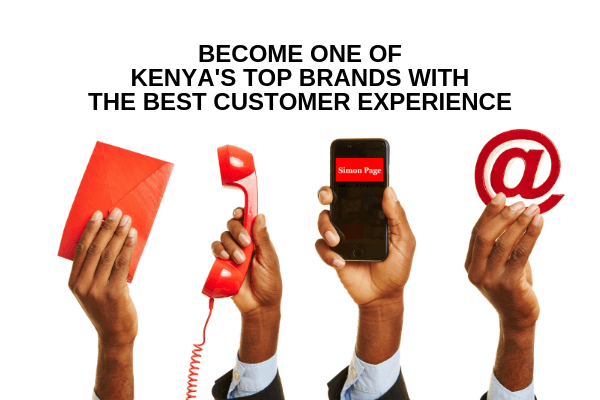 20 May

How to become one of Kenya's Top Brands with the Best Customer Experience

Top Brands in Kenya like Safaricom are famous for their remarkable customer service. Its progressively improved customer experience has made acquire subscriptions of about 92% of Kenya's population.
No matter how good your product's branding and pricing is, if your consumers do not get the desired customer experience, your business is dead. Branding and customer service are inseparable.

The following are simple ways in which you enhance or create the Best Customer Experience:
Develop a personalized relationship with your customer
This may sound cliché but every customer likes to feel valued no matter how little they are paying for your services or products. A personalized relationship with your customer is all about ensuring that every interactions occurring during a purchase or after sale services make them feel valued. Employing compassionate and empathetic customer relations staff can highly boost trust loyalty and recommendations. For them to be persuaded into buying anything, customers want to know that you appreciate that they chose your brand over its competitors.
The Psychology of Experience
Consumer behavior and their purchase decision is greatly influenced by the way they feel about their experience with your brand. This may include; how their inquiries are handled, purchase process and even after sale services. According to a recent survey by Gartner, 89% of companies expect to compete mostly on the basis of customer experience.
You can influence any customer's psychology of experience by:
Quick and helpful responses
Commitment to deliver brand promises
Employing empathy in your customer service
Always have details of what you offer in hand
Having customer relations staff who not only listen to complaints but understand what the brand is about and can give reliable answers to prospects gives you a competitive advantage. Customers appreciate it when they are given choices with detailed information before settling on one item.
When your customer service personnel is able to speak in the brand's voice, customers develop an image of what to expect from you and perceive this as a personalized interaction.  Like William Bernbach states, it is always good to remember that: "You can say the right thing about a product and nobody will listen. You've got to say it in such a way that people will feel it in their gut. Because if they don't feel it, nothing will happen."
Do you want to learn more about value creation through customer experience, visit https://bit.ly/2ZA1Pb9